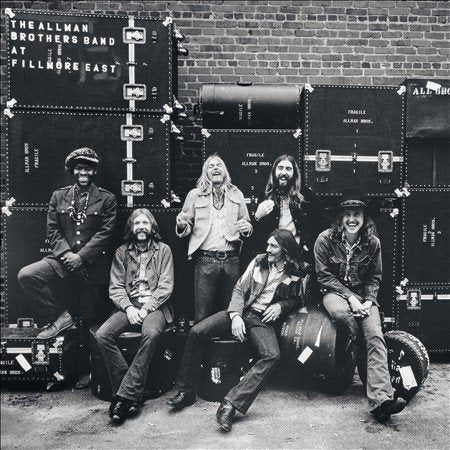 At Fillmore East (180 Gram Vinyl) (2 Lp's) - Allman Brothers Band
Regular price
$34.98
Sale price
$28.59
/
---
In stock, ready to ship

Inventory on the way
The Allman Brothers Band: Gregg Allman (vocals, piano, organ); Dickey Betts (guitar); Duane Allman (guitar, slide guitar); Berry Oakley (bass); Jai Johanny Johanson (drums, congas, timbales); Butch Trucks (drums, timpani).
Additional personnel: Thom Doucette (harmonica).

Recorded live at the Fillmore East, New York, New York on March 12-13, 1971. Originally released on Capricorn.
Ultradiscs are mastered from the original master tapes using Mobile Fidelity's proprietary mastering technique, then plated with 24-karat gold and housed in a stress-resistant lift-lock jewel box.
The original Fillmore East album is one of the finest live documents of the rock era, capturing the original line-up of one of the '70s' tightest outfits before they were cruelly robbed of Duane Allman and Berry Oakley. Taken from five 1971 performances at New York's fabled Fillmore East, the extended and effortlessly melodic workouts of "In Memory Of Elizabeth Reed" and "Whipping Post" still have the power to rivet and move.
On display here is the Allmans' fabled chemistry at its finest. The band not only rocks, it rolls, swings, and stretches out in exploratory, jazzy passages. The dual guitar interplay of Duane Allman and Dickey Betts glides effortlessly over the propulsive rhythm section of Oakley and twin drummers Jaimoe and Butch Trucks, while Greg Allman's powerful blues voice and melodic keyboard work provides the icing on the cake. Though the later-released THE FILLMORE CONCERTS presents these songs in their original entirety, AT FILLMORE EAST, with its seamless edits of multiple performances, may be the superior recording. It highlights all the glint and sparkle of what still ranks among the best jamming committed to record.
Format: Vinyl
Genre: Rock
Released: 07/22/2016